World Fat Bear Animal Day Week
🦇 Bat Eschner's spooky newsletter about animal-human relationships Vol. 3 Iss. 10 🦇
This issue of CREATURE FEATURE is brought to you by today. It's World Animal Day, which happens to be the secularization of the feast day of St. Francis of Assissi, patron saint of animals. Statues of my boy Frank in the company of birds and other critters can often be found in gardens.
Catholics (and not a few cat-holics, I suspect) take their pets to be blessed on this day. I possess neither faith nor cultural ties to Catholicism, so will not be participating, but I *will* take any opportunity to think about animals for a second. May I interest you in this timely reflection?

Image: Here we see the second bracket competitors in Katmai National Park's Fat Bear Week competition, now in its fifth year. Credit: Katmai National Park/Twitter
---
Crawl but in real life (movie spoiler alert, insofar as this movie has a non-predictable plot)
Okay, before we talk about what actually happened I have to tell you how irritated the movie Crawl made me. The protagonist is unequivocally the asshole in this one, and she's not an anti-hero or something: we're supposed to root for her and her dad throughout the movie.
The TL;DR on the plot: college swimmer defies hurricane safety officials and goes back to her childhood home to rescue her estranged dad, who it turns out is trapped in the basement after a gator attacked him. They manage somehow to make it out and mend their relationship, but a buuuunch of people die trying to rescue them. And who can say what other vulnerable people died off-screen (in the Crawl universe, not IRL) because they were such a draw on valuable resources? Honestly. If you want a good review of this dumb movie I recommend this.
Anyways, gators do regularly go missing from wildlife parks in tropical storms and hurricanes. I imagine the wild ones also get bounced around a bit. This summer, Big Tex, the largest captive gator in the US, a thousand-pound, fourteen-foot thicc boye, went AWOL from the Gator Country Adventure Park during Tropical Storm Imelda. He didn't even maul anybody! He's back at the park now, writes Martin Pengelly for The Guardian.
Rethinking Dian Fossey's racist conservation legacy
Although often valorized, Dian Fossey was no hero, writes biological anthropologist Michelle A. Rodrigues for Lady Science. The primatologist, who was murdered in 1985 at her field site, engaged in reprehensible acts as she did her work. There's more to this piece than I can write here, so I recommend you just click through.
…discussions of Fossey's "controversial" methods typically gloss over their full extent. Fossey's "active conservation" included physical torture, psychological torture, and kidnapping of local people near her field site in Rwanda, as she enacted a neo-colonialist conservation program rooted in white supremacy. When we edit out these details when discussing Fossey's legacy, with students and with broader audiences, and leave out the human costs of her work, we reinforce an implicitly white, Western model of conservation.
Planting pine martens in pre-Brexit Britain
Pine martens, hunted almost to extinction in the last few hundred years, are making a comeback in Britain's Forest of Dean. Per The Guardian's Steven Morris, the fuzzy lil otter relatives were yoinked from Scotland, where they're starting to make a comeback, and have been relocated to a secret spot in the forest, presumably so they don't get hunted.
"Conservationists hope the animals will breed, spread and eventually link up with a group of pine martens that was reintroduced across the border in Wales," he writes.
Bonus round: This initiative has been in the making for some years, and reading about it made me wonder how Brexit is likely to impact conservation. The answer appears to boil down to "it definitely will."  
---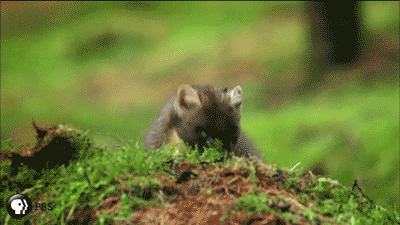 GIF: A young pine marten in Ireland peeks its head up. (Credit: Nature on PBS)
---
Extra credit
More things I read this week.
---
Please read me
My work from this week and last.
---
Questions? Comments? Complaints? Contact me at my email or on Twitter. If you enjoy this newsletter and would like to tip me, I am on Ko-fi. If you *really* enjoy this newsletter and would like to become a paying subscriber, hit up goforcreaturefeature.com.
CREATURE FEATURE is edited by Tracey Lindeman.
All images in CREATURE FEATURE are used under Creative Commons licensing. Efforts have been made to ensure that photographs of living animals or natural scenes have been taken ethically, in responsible pet ownership conditions, at AZA-accredited zoos and aquariums or under safe, non-damaging conditions in the wild. If you see an issue with any image we share, please notify me.